About OPH
The Office of Population Health (OPH) was created in 2015 to lead UCSF Health's efforts to improve the health of our patients, improve the experience for our patients, and lower the costs of care delivered. We work closely with leadership across UCSF to execute a system-wide strategy of delivering innovative models of value-based care. 
We lead UCSF's participation in 1) state pay-for-performance programs, 2) alternative payment models such as Accountable Care Organizations (ACOs) and bundled payments, and 3) population health quality for UCSF and our partners.
We are comprised of three primary components:
Innovative clinical programs focused on improving the health of patients throughout the care continuum
Data and analytics aimed at analyzing and disseminating clinical and cost data
Project management team focused on population health value-based care quality and pay-for-performance programs
---
OPH Mission and Values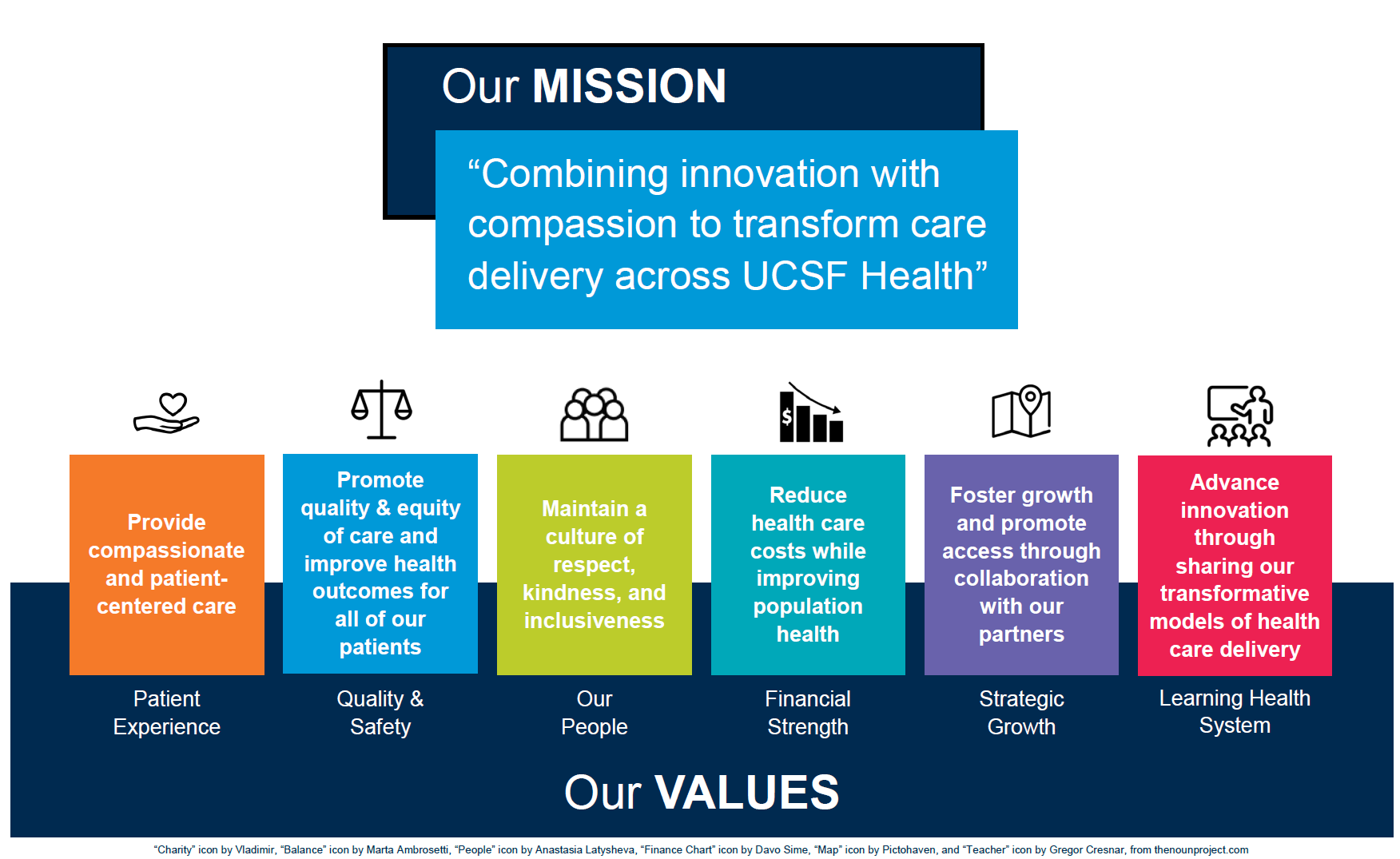 ---
OPH Leadership Team
Administration
Gina Intinarelli-Shuler RN MS PhD is the Vice President and Chief Population Health Officer at UCSF Health. She also serves as Associate Chief Nursing Officer for the Institute for Nursing Excellence and as Associate Dean of Clinical Affairs for the UCSF School of Nursing. As Vice President and Chief Population Health Officer, she is responsible for the direction, creation, planning, implementation, and evaluation of many large-scale clinical and operational programs and initiatives led by the Office of Population Health, including: Clinical Care Management, risk-based contracts such as Commercial Accountable Care Organizations, Medicare Advantage and Bundled Payment initiatives, State pay for performance programs such as the Quality Incentive Program, Population Health Analytics, Ambulatory Quality for UCSF and its partners, Ambulatory Risk Capture, and Federal regulatory quality programs. She has more than 30 years of direct clinical experience as a critical care nurse. She earned her Master's degree and PhD in Health Policy from UCSF.
Kristin Gagliardi, Innovation Implementation Specialist
Noelle Lee, Director, Operations and Administration
Brian Taylor, Director, Analytics
Avi Tutman, Manager, Ambulatory Risk Capture and MA Operations
Hira Safdar, Operations Officer, Population Health Quality
Mauricio Roman, Operations Coordinator, Clinical Programs
Thomas Giannini, Executive Assistant to Gina Intinarelli
Medical Directors 
Michael Alvarado, MD, Medical Director for Accountable Care - Commercial Payers
Elisabeth Askin, MD, Medical Director for Ambulatory Risk Capture
Lee Atkinson-McEnvoy, MD, Vice Chair for Primary Care and Population Health
Rebecca Conant, MD, Medical Director for Care at Home
Ralph Gonzales, MD, MSPH, Chief Innovation Officer
Kevin Grumbach, MD, Senior Medical Director
Tim Judson, MD, MPH, Medical Director for Care Delivery Transformation
Arthur Wood MD, Medical Director for Accountable Care - Government Payers
OPH Clinical Programs
Michael Helle, Director, Clinical Programs

Dena Abusrur, COVID-19 Clinical Manager, COVID Hotline Patient Triage, CRISM
Robin Andersen, Manager, Complex Care Team
Lara Bellingham, COVID-19 Clinical Manager
Kiara Bowen, Supervisor, COVID Centralized Scheduling Team
Irina Kaplan, Manager, Care at Home
Carolyn Stead, Manager, Behavioral Health
Henrietta Tran, Manager,  ACO Commercial/Medicare Advantage Program
Meg Wheeler, Manager, Care Transitions
Population Health Quality
Sara Coleman, Director, Population Health Quality

Maria Johnson, Manager, Population Health Regulatory and Quality Programs
Tasha Toliver, Manager, Population Health Outreach